Hair Peace Salon

Gentleman (2012)
Background information
Origin
Minsk, Belarus
Genres
Indie rock
Alternative rock
Britpop
Years active
1998–2013
Labels
West Records
Associated acts
Bristeil
Jitters
Helaiv
Members
Aleh Vial
Konstantin Karman
Maxim "Gandibober" Devichensky
Alex Stepanovich
Past members
Alex Vashchilo
Artur Luchkov
Vadim Dubina
Vadim Isaev
Andrey Kozik
Alexey Kuznetsov
Vladimir Agayan
Hair Peace Salon is a brit-pop and power pop music band from Minsk, Belarus, one from the main Belarusian representatives of British indie rock. The music of Hair Peace Salon is distinguished by English lyrics with emotional flow and drastic mood swings in songs. The group was founded in 1998 and on today they have released one full-length album Gentleman and numerous singles and EPs. In the middle of 2013 musicians paused co-working, and some people of their latest lineup including frontman and co-founder Aleh Vial, whom is considered as one of the best rock performers in Belarus, founded another rock music band Bristeil, and this was followed by the birth of his solo electronic music project called Helaiv in 2017.
Style
Musicians of Hair Peace Salon that started as an alternative rock band at the turn of the millennium, through the first decade of 2000 with an indie rock. brit rock, and britpop repertoire, became known in the 2010s mainly as performers of English power pop.
Band name
One day the name "Hair Peace Salon" has been suggested by a friend of Aleh Vial who has been making music too. Aleh Vial saw a piece of his lyric to the song called "Hair Peace Salon". His friend took this spelling from an American film, it was just a sign on a house. Aleh Vial made a research and not found any bands called like this, and only such a hairdressing salon in Denver, Colorado was detected. Another writing of "Hair Peace" was beign investigated by Aleh Vial on a window in the documentary about John Lennon and Yoko Ono Bed-In.
Discography
Next Level (single, 2004)
Hover (single, 2005)
Split Before, Together Now (compilation album, 2007)
Gipsy (EP, 2007)
Stand The Rain (single, 2008)
In Tune (EP, 2008)
Happy for a While (single, 2010)
HPS Remixed (EP, 2010)
Rolz'n'Rulz (single, 2010)
Gentleman (album, 2012)
Garela Sasna (feat. Irena Kotvitskaya) (single, 2012)
Participation in collections
Spotlight On (2005), track "Hover"
我爱摇滚乐 = So Rock! Magazine 98
Tuzin Gitou. Perazagruzka (2009), track "Studzień"
Budzma! The Best Rock (2010), track "Ciańki"
The Festival Anthem by Waxme (2013), track "Stand the Rain (Waxme Space Funk Remix)"
Videography
"Hover" (2008)
"Like A Whale" (2009)
"In Tune" (2009)
Band members
Aleh Vial – lead and backing vocals, rhythm and lead guitars (1998–)
Konstantin Karman – lead and backing vocals, keyboards, synthesizer (2007–)
Maxim "Gandibober" Devichensky – bass guitar (1998–)
Alex Stepanovich – drums (2012–)
Former members
Alex Vashchilo – drums (1998–2002)
Artur Luchkov – drums (2003–2008)
Vadim Dubina – solo guitar (2003–2005)
Andrey Kozik – keyboards, backing vocals (2005–2006)
Vadim Isaev – solo guitar, backing vocals (2005–2008)
Alexey Kuznetsov – drums (2009)
Vladimir Agayan – drums (2010–2012)
Timeline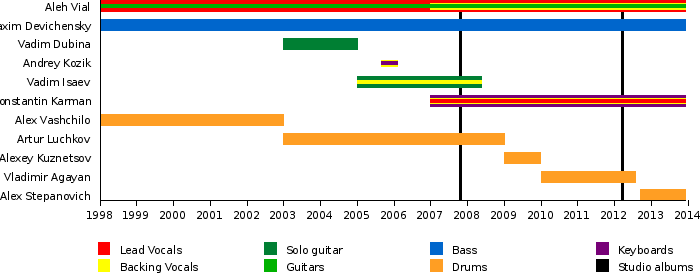 Community content is available under
CC-BY-SA
unless otherwise noted.